RV Units For Rent
COVID-19 Procedures:
Flexible cancellation policy. Full refunds for cancellations two weeks prior to departure, during all seasons, and unlimited travel credits for cancellations less than two weeks prior to departure in prime, shoulder, and economy seasons, where Covid -19 travel restrictions apply.
RV's are being quarantined for appropriate periods of time, prior to being fully sanitized and prepared for upcoming rentals. The interiors and high touch areas of all rental vehicles are being sanitized with a virus killing cleaner called Proxi that is used as a disinfectant in hospitals and nursing homes
Mattresses are being disinfected and or steam cleaned prior to every rental.
Rental cleaning staff are wearing full personal protective equipment, including masks, face shields, and gloves.
Finally, a seal is applied to the RV entry doors after each RV is cleaned and sanitized, so that no one unnecessarily enters the RV's after cleaning.
All forms, including check out may be completed electronically, prior to pick up. Where check out is completed electronically, Customers are responsible to photograph any damage that is not indicated on their check out form and to email the pictures to reservations@rvvacations.com and call to notify our rental manager of the damage at 1-888-539-3333, prior to departure.
Verification of ID and original signatures on credit card payments will be required, prior to departure, while following social distancing procedures.
We may continue to revise our policies accordingly.
Click here to read more about how we're managing COVID-19.
_____________________________________________________________________________________________________________________________________________________



When renting an RV you have the freedom to travel almost wherever and whenever you want. With terrible weather there's no need to be cooped up in a hotel room, because you can just drive to better weather. The journey to your next destination is an adventure, which is part of the fun. At Outdoor Travel we have many RV units for rent available, below are some of the most common and popular rental units and their floor plans. Please note floor plans may vary.
"Class A" (Double Slide) - Floor Plans May Vary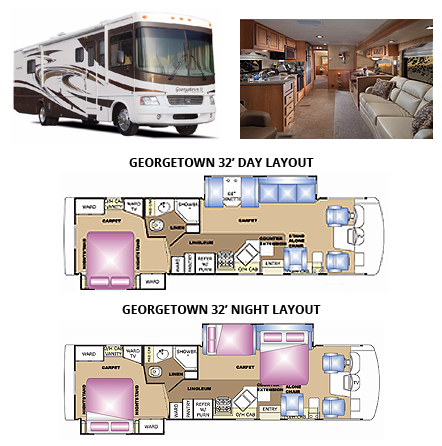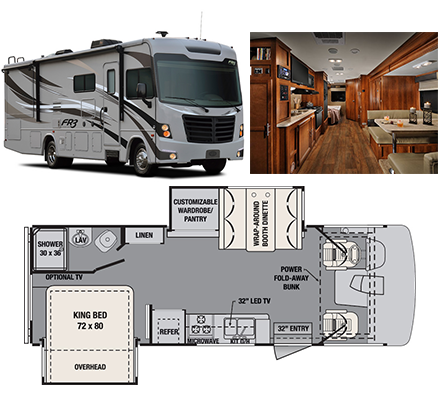 ---
"Class A" With Bunks (Double Slide) - Floor Plans May Vary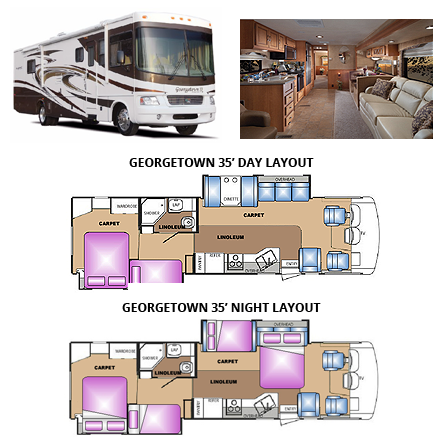 ---
ClASS C - 23'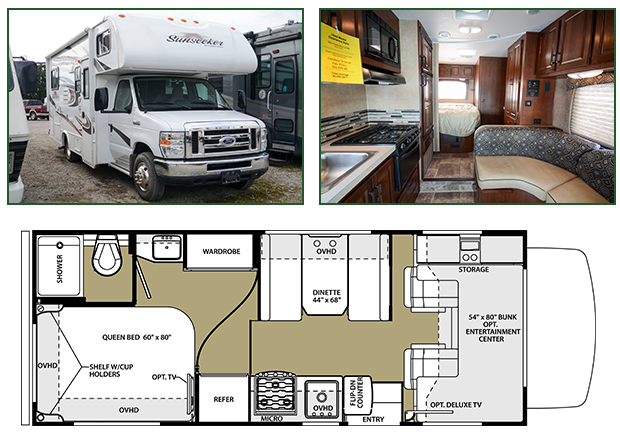 ---
"Class C" 31' (With Slides) - Floor Plans May Vary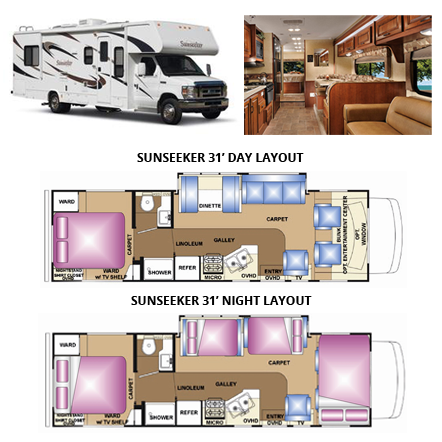 ---
Travel Trailers With 2 Bunks