Canada is known for many great things, one of those being its long and intense winters. Though you might feel tempted to stay bundled up warm inside, doing so would mean missing out on the beauty of the season. In this article, we're counting down the 7 most beautiful places to visit in Ontario in the winter.
Sleeping Giant Provincial Park, Thunder Bay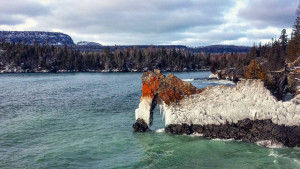 If you want the full Canadian winter experience, then Northern Ontario is the place to be. The beautiful landscapes that the area is known for look even better under a blanket of snow. While travelling up North, be sure to stop by Sleeping Giant Provincial Park to see the landmark known as the Sea Lion. The rocky outcropping is perfect for a snowy photoshoot.
Blue Mountain, The Blue Mountains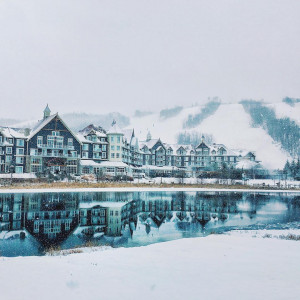 Whether you're looking for some fun winter sports or simply want to take in some breathtaking winterscapes, The Blue Mountains are the perfect destination. The ski hills at the Blue Mountain Resort are some of the best in the province, and visitors can enjoy snowshoeing as well. Nearby Collingwood has attractions of its own, including the hiking trails at Scenic Caves Nordic Centre, a UNESCO biosphere reserve. The reserve is home to a 200-year-old forest with winter owls, deer, rabbits, and other wildlife, and a suspension footbridge that has some of the best views around.
Algonquin Provincial Park, Whitney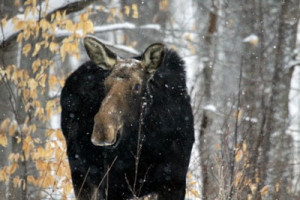 There's no doubt that Algonquin Provincial Park is one of the best destinations in Ontario regardless of the season, but it is certainly one of the best parks for winter camping. It is the perfect spot for some tranquility and to get reacquainted with nature. The abundant wildlife and trails are ideal for anyone who enjoys the great outdoors. This park is so isolated that some areas don't even have cell phone reception, so be prepared!
Bruce Peninsula National Park, Tobermory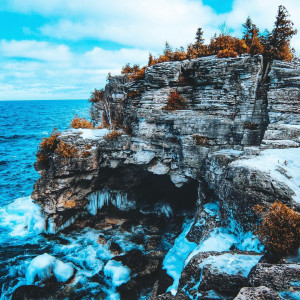 There is something extra special about seeing the bright blue waters of Georgian Bay against the white snow and rocky coast of Bruce Peninsula National Park. Tobermory is a very popular destination in the summer, but it shouldn't be overlooked in the colder months. The park offers winter camping and activities like snowshoeing, hiking, and cross-country skiing. When you visit this area, make sure your camera is charged because this is one spot you'll want to remember forever.
MacGregor Point Provincial Park, Port Elgin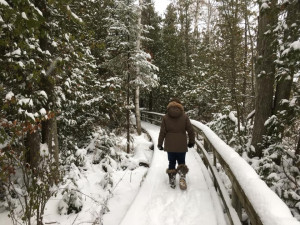 MacGregor Point Provincial Park is another great winter camping destination. In addition to the standard activities like skiing and snowshoeing, the park also has a 400-metre skating trail! Surrounded by Lake Huron, the park also offers stunning views and a scenic drive. Bring your skates and other outdoor gear and settle in for a great visit during the bracing Canadian winter!
Rideau Canal, Ottawa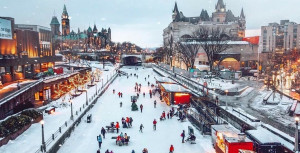 The nation's capital is a great destination to knock off your bucket list, and there's no better time to visit than during the winter. Skate down the Rideau Canal—the world's longest natural frozen skating rink— with Parliament and the beautiful Chateau Laurier hotel as your backdrop. Visit in February during the city's Winterlude festival and browse the ice carving competition, or take a walk through downtown's Byward Market. There's no shortage of sights to see and activities to participate in here!
Muskoka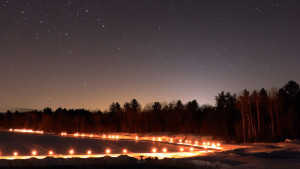 Another destination you might associate with summer, Muskoka during the winter will surprise you—pleasantly, we hope. Get active by skiing or snowshoeing, or spend a relaxing day ice fishing during your visit. At night, head to Muskoka Lakes Farm & Winery for a skate under the stars surrounded by 400 tiki torches along the 1.2 km Cranberry Ice Trail. If you're ready to explore this beautiful province in the winter, then Muskoka is a must-see.